News
Search Engine Optimisation (SEO) – A Quick Beginner's Guide
Once you delve into the realm of SEO you can quickly become overwhelmed with the terminology and buzzwords that are casually thrown around. If you're reading this, then the chances are that you've heard of SEO and you know everyone is doing it so think you should probably be doing it to. But, you're not sure where to start. If that sounds familiar, then this quick primer should give you the tools you need to get started.
Did you know: Google and other search engines use incredibly complex algorithms to order their search results and deliver what they believe to the most relevant content for that person?
This means, for any business with an online presence (such as a website) rating high on search result pages is important. In fact, if your website does not show on the first results page of Google, it will be missed by a staggering 96% of Google users!
To help rate higher on a search result you should know a thing or two about SEO.
What is SEO?
SEO, stands for search engine optimisation. It's about a bit more than just getting good search results though. SEO is the strategy of getting more people to your site, but also getting the right people to your site. It's not just about getting the hit counter turning over, it's about helping potential customers find you. And this is without paying for adverts.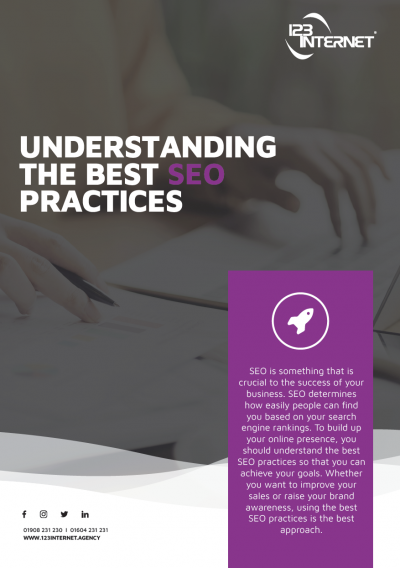 SEO is something that is crucial to the success of your business. SEO determines how easily people can find you based on your search engine rankings.
Whether you want to improve your sales or raise your brand awareness, using the best SEO practices is the best approach.
The goal with this whitepaper is to take a closer look at these top SEO best practices so that you can understand the changes that you should make.
White Hat or Black Hat?
This is a term you may come across after in reference to SEO experts or to practices that companies use. It is basically the difference between SEO that works with the search engine guidelines (white hat) and tactics that try to 'game' the system (black hat). Now black hat tricks do work, but you are taking the risk that you will get penalised or de-indexed by search engines, which will basically kill your website.
How To Make Your Website SEO Friendly
Below are six key SEO tips to get you started:
1.      Use headlines and sub-headers
Keep your pages organised and properly tagged with headers. This will help Google index your site more efficiently. If your webpage is about spades then the page header should include the keyword spades.
2.      Use links internally and externally
Link internally to other pages on your website as well as externally to other reputable websites. Make the links part of your body content matching keywords.
●       Google wants to make it easy for people to find you with Google My Business.
●       Ensure that all local directory links point back and have the correct details
3.      Long form is working well on Google
Long form content is currently trending and so Google with give weight to websites that have longer content. However, too long will mean that readers lose interest so be mindful about how much copy you have on your web pages. A recommended article length is between 650 – 800 words.
4.      Keywords should be planned
There's no point just using any words as a page title or header. You should be careful about selecting the right ones and plan them well. Consider what words people are likely to type when searching for your business on a search engine – these will form the basis of your keywords.
5.      Visual content is king
Understanding how you can best optimise pictures is a proven way to boost SEO. Many people are more attracted to sites that contain top quality images. These should be named properly (using important keywords) and given ALT tags on your website's HTML.
6.      Write high-quality content
The premise is simple: Quality and well written content will mean that website visitors will remain more engaged and explore more of your site. Keep the content relevant to the site and make sure it is legible and formatted for top readability.
Out of all the above tips, this one will prove the most important so deserves the greatest investment! Follow these six rules and you are sure to have a more SEO friendly website, giving you more chance of being seen in search engine results.
How Often Do Things Change?
I previous wrote an article around the various Google Algorithms and what each one meant to SEO. Basically, there are algorithms that search engines like Google use to determine SEO rankings. By understanding these algorithms, you can learn how to use them to your advantage to improve your online visibility. These changes are on-going, some are obvious and are announced – others happen in the background and can take a while to spot.
Avoid The Common Mistakes
Even if you outsource your SEO to an external agency, it's worth being aware of the common mis-understandings people have. You can read a full list of common mistakes in one of my previous articles but these include:
Local Keywords
Too Many Links
Poor Content
Wrong Audience
Short Content
Poor Research
Poor Headlines
Cluttered Site
Do I Have To Run PPC With SEO?
When developing a website marketing campaign, Search engine optimisation (SEO) and Pay-per-click (PPC) are the most common routes taken, particularly when trying to boost traffic to your website. SEO is usually the first port of call for new businesses, but PPC is also beneficial dependent on your target audience.
When deciding which marketing campaign to use, you need to understand your prospective customer and how they use search engines to find your products. Ultimately, this will help you decide if SEO, PPC or a combination of the two are best to promote your website and increase traffic.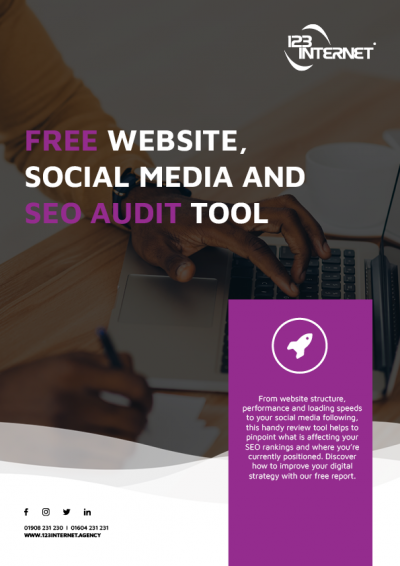 Getting your website to rank in Google is more competitive than ever.
123 Internet Group's comprehensive AI-driven SEO and Website Audit automatically reviews and identifies problems with your website that could hinder ranking performance. Providing a clear, actionable list of prioritised SEO recommendations.
If you want to discuss your report in more detail, or for more expert advice, our friendly SEO consultants are always on hand to help!
Inbound
Digital Marketing

Strategy For Growth, Lead Generation And

ROI