123 Internet Group Brings Back Digital Conference
123 Internet Group, an award-winning digital marketing agency, will host an industry-leading conference to give local businesses the chance to learn about the impact of digital transformation this spring.
The Milton Keynes based agency's fourth annual MK Digital Summit will be held on Wednesday 18th May at Red Bull Racing in Tilbrook.
Delegates will learn how to push their business to the forefront of digital marketing through knowledge sharing from renowned industry leaders.
One of the world's most successful social media influencers at the intersection of business and technology, Bernard Marr, will be a keynote speaker.
Bernard Marr has over 2 million followers on his social platforms.
Social media management specialists Sprout Social, of which 123 Internet Group are one of the founder and platinum partners, will also take to the stage.
There will be a representative from the popular charity Mind, who will also be speaking at the all-day event, which is expected to attract more than 250 attendees.
Mental health in the workplace has been a key focus for many companies in the past two years as businesses and employees navigate the pandemic.
The Mind presentation will look at the future of the office and how management can support the transition of hybrid working.
Scott Jones, CEO of 123 Internet Group said:
"Our MK Digital Summit is ultimately an amazing opportunity for knowledge sharing and industry insights from the biggest industry speakers. 123 Internet Group are proud to be an award-winning digital agency and we are delighted to be bringing this incredible event, championing awareness and education from the leading players in marketing, to our local business community.

"Our industry is fast paced and ever changing, so staying abreast of trends and learning from the best in the business, alongside likeminded people, is a must."
Tickets for MK Digital Summit are on sale now. Visit www.mkdigitalsummit.co.uk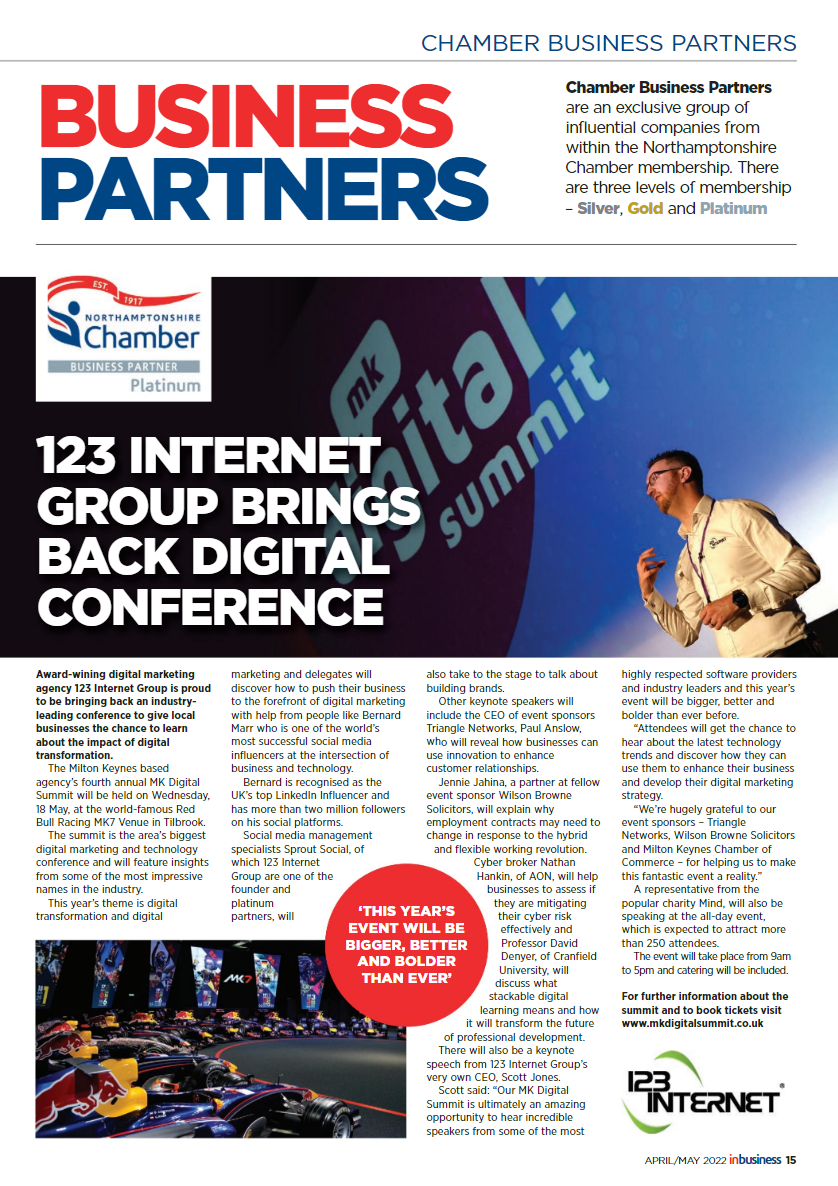 Want more info? Call 01908 231230 or 01604 231231 today!