Best Social Media Campaigns For Thursday
At 123 Internet Group, we love celebrating other companies' successes. Whether it's inviting the best businesses in the sector to our MK Digital Summit or inviting the most popular influencers onto our podcast, we're all about recognising the best in the industry.
The same can be said for our social media team. The dream team is always finding inspiration from their favourite companies in the biz and enjoying awesome content that's being put out. One of our favourites is, of course, the dating App Thursday.
Who is Thursday?
If you don't already know (or you've been living under a rock), the team at Thursday have been making waves in the social media world thanks to their innovative marketing campaigns.
As well as their bold marketing stunts, what sets Thursday apart from other apps is that you can only use it on one day a week – Thursday. This is to encourage users to actually get off the app and meet in real life – rather then spending days upon days scrolling through potential matches.
But we're here to talk about their marketing strategy. From poking fun at their competitors to bringing camels to the streets of London, let's take a look at their best campaigns to date.
Our take on Thursday's tube campaign
Yesterday, Co-founder and CEO at Thursday, George Rawlings, shared on LinkedIn that their latest marketing campaign would involve sharing a brand new ad on the underground – picked by their LinkedIn readers.
Yep. Thursday is giving their LinkedIn readers the chance to come up with an offbeat and eye-catching message and, the copy picked will be seen on the London underground – with credit.
The only requirements? The ad had to have a pink background and black writing.
Immediately our social team got their thinking hats on. I'm sure the rest of the team were very confused to hear them listing off rude tube station names, jokes about bad dates and…well…other not so great ideas.
Eventually, they came up with the below – which, if you ask me, is the perfect tone of voice and cheeky sense of humour that reflects Thursday's branding.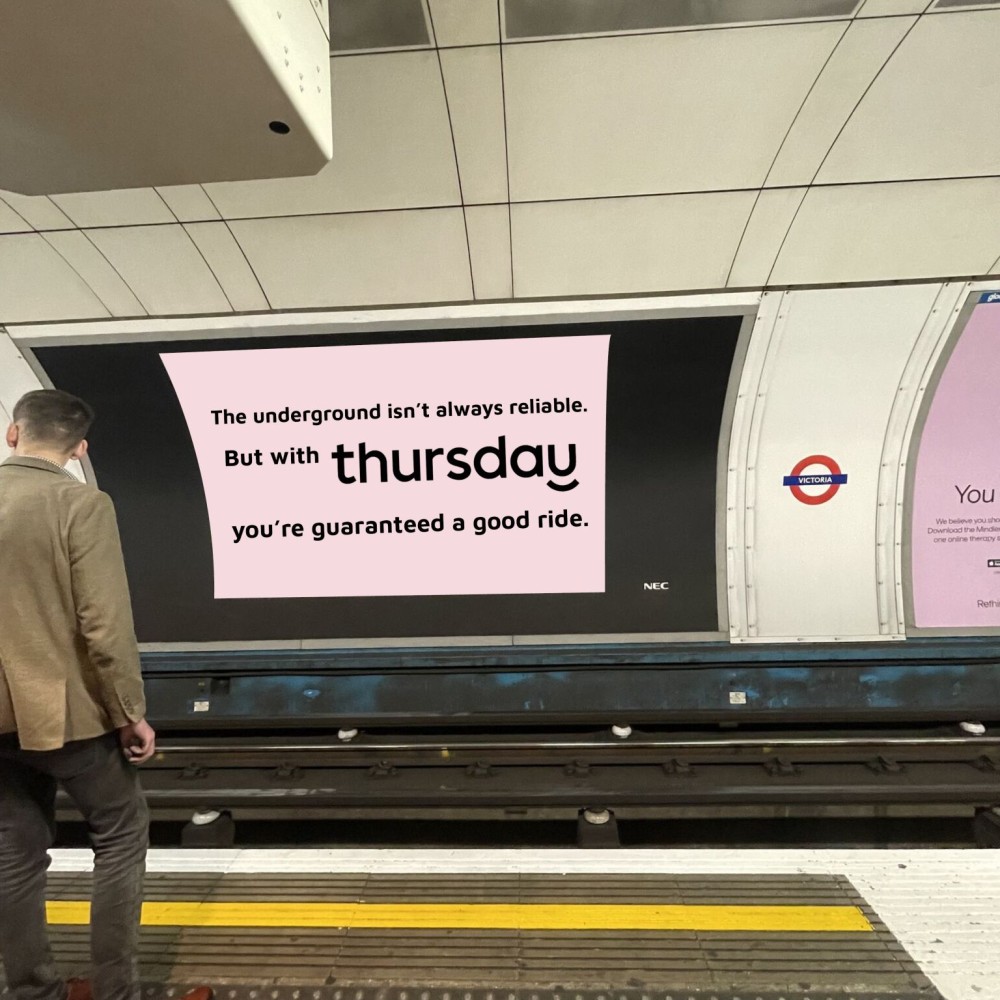 What do you think?
'Happy hump day' – featuring a camel
Okay, so Thursday was actually called out for using a live camel in this PR stunt, but they do say all press is good press, right?!
This stunt featured a camel standing outside Liverpool Street Station in London whilst wearing a handwritten billboard. The social team expertly managed to jump on the humpday trend – usually reserved for Wednesdays only – and found a way to relate it to the following day of the week.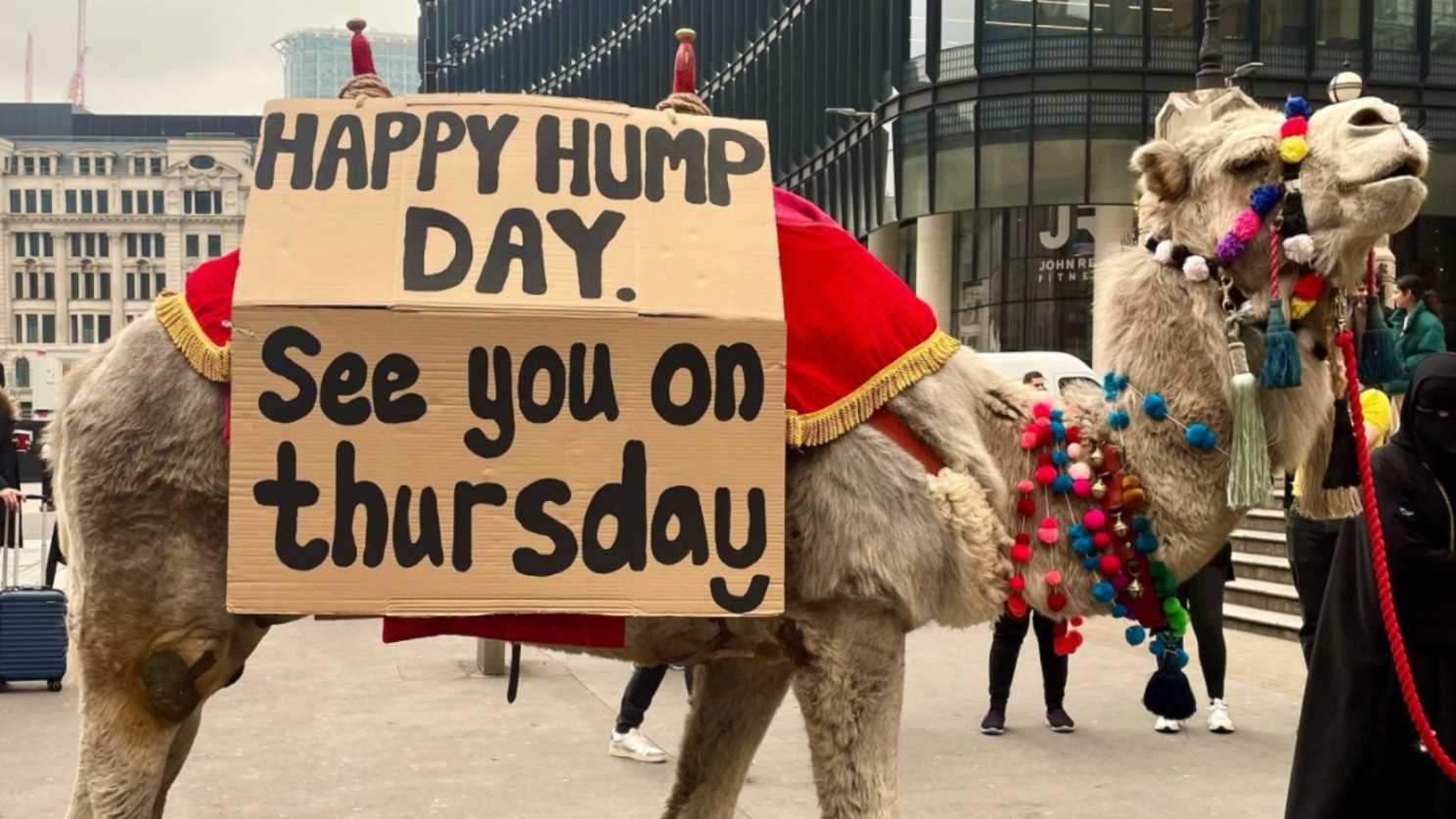 Poking fun at other brands
Let's face it: although Thursday is fast becoming well-known thanks to its marketing team, it's one of many dating apps available at our fingertips. From Tinder to Bumble, there's no shortage of dating apps out there.
With this campaign, they referenced some of the top apps and used these names to their advantage with tongue-in-cheek billboards. It worked because it speaks to their target audience who is notably no stranger to any of the apps mentioned.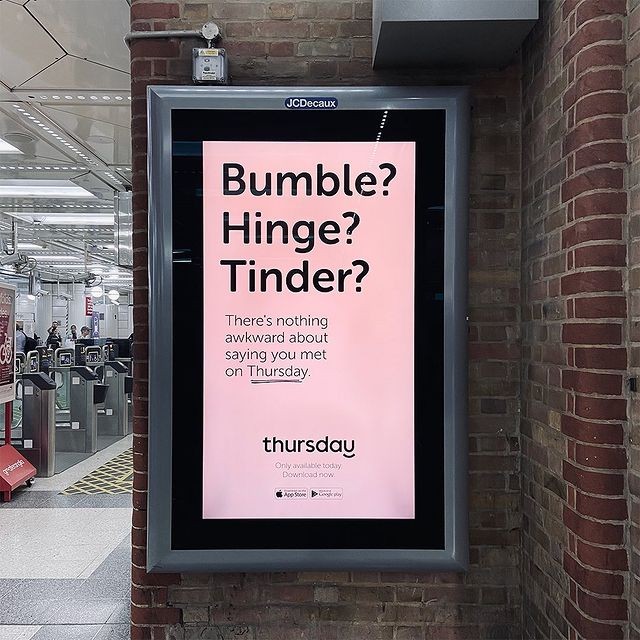 'Cuffing season'
Have you ever heard of cuffing season?
Me either.
But do you know who has?
Thursday's target audience – and basically every young professional between the ages of 18-35.
Which is why this particular campaign worked so well – those who knew enjoyed being in on the joke and the relatable language that spoke to them on their level. And those who didn't? They were intrigued.
For this campaign, Thursday's intern Amy Jackson handcuffed herself to a pole with a huge billboard poking fun about her 'embarrassing' internship with the hashtag #cuffingseason.
This was just one of many stunts that saw interns taking to the streets of London with similar branding.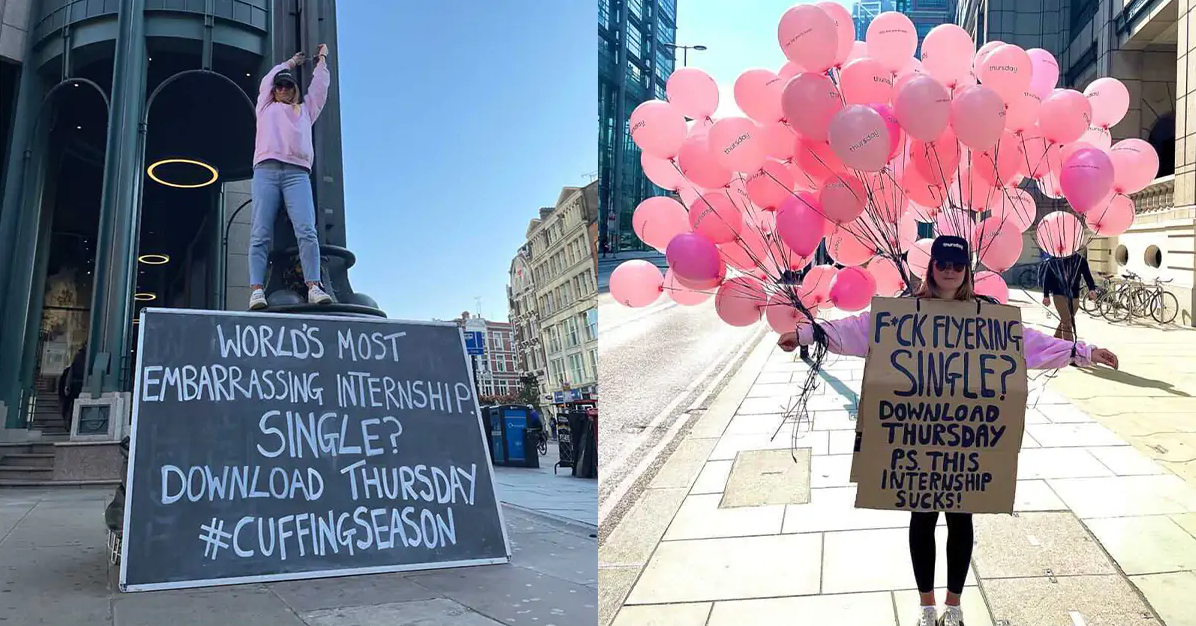 What can you take away from Thursday's marketing strategy?
And how can you take a similar approach with your marketing efforts?
●    Get to know your audience. Seriously. Some brands would balk at the idea of using swearwords in their copy. But if you're target audience is Gen Z, for example, you'll want to stand out with cut-throat language, memes and emojis.
●    Stay consistent. Thursday continually comes up with the most random but effective PR stunts but they always have the same things in common: they all use the notable pale pink and black branding and distinctive tone of voice – so much so that even without a logo, you'd easily be able to associate the campaign with their name.
●    Be bold. Have you ever created copy that seems a little too cheeky or too out there? Put it out anyway. As John Thornton from innocent drinks once said, "If you're 70% sure about something, try it"
What's next?
We don't know what Thursday will come up with next (other than hopefully seeing our excellent ad on the tube of course…) but we do know it'll be authentic, comedic and won't shy away from their unique tone of voice.
We're definitely excited.
Want more info? Call 01908 231230 or 01604 231231 today!